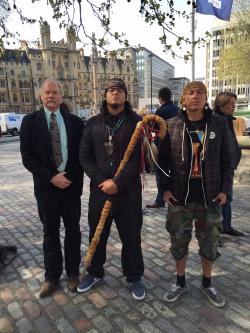 Here is the statement of the Arizona Mining Reform Coalition at this morning's Rio Tinto Annual General Meeting in London:
Thank you for the opportunity to speak. I have come to London again to speak to you and continued to be troubled by the activities of a Rio Tinto at Oak Flat, which is sacred and ecologically priceless public land.
First regarding the promises of Rio Tinto starting from the top, at last year's AGM, Sam Walsh, your CEO, promised to contact me about a visit the next time he was in Arizona. However, Mr. Walsh and his entourage was observed by our encampment at Oak Flat, flying into the #10 mine shaft site in a fancy helicopter a few weeks ago, sticking around to meet with mine supporters for a few minutes and then leaving. No contact, or notice of the visit.