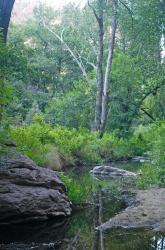 Gaan Canyon VegetationYour action is needed now to stop a serious attempt by Rio Tinto and their allies in the US House and Senate from moving HR 2509 and S 409. In the Senate, Energy & Natural Resource Committee Chairman Jeff Bingaman and Arizona Senator John McCain are trying to work out a compromise bill. In the House, Representative Ann Kirkpatrick is attempting to convince House Speaker Nancy Pelosi to move HR 2509.
In the House, please contact Representative Ann Kirkpatrick and remind her why HR 2509 is a bad idea. Also contact House Speaker Nancy Pelosi and tell her why HR 2509 is special interest legislation that gives a huge subsidy to foreign mining companies that already make billions of dollars in profits every year.
In the Senate, please contact Senator McCain and Senator Bingaman and tell them "no backroom deals." Senator McCain has bullied Senator Bingaman to the point that he is willing to compromise, but he needs to stick to his guns to protect the land, religious freedom, and the normal process we use to permit mines.