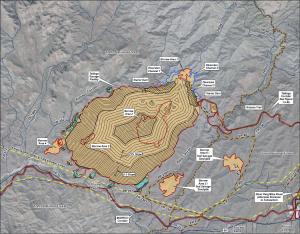 Proposed Toxic Tailings Site
For nearly ten years, Rio Tinto has avoided divulging any real details of its proposed huge underground block cave mine under Oak Flat.  Instead, Rio Tinto has spent their time trying to convince the US Congress to pass special interest legislation that would privatize Oak Flat and avoid most of the federal process for permitting mine on public land.
Last November, in an effort to revive their floundering 12 version of the Oak Flat land exchange bill, Rio Tinto bowed to pressure from both sides, and released a mining plan.  Rio Tinto's PR since the release of the plan has been "we gave you the plan, now give us the land exchange."