At the first public hearing for its proposed open-pit copper mine in the Santa Rita Mountains, we were outgunned.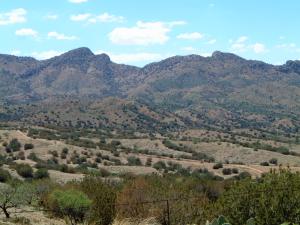 Rosemont Valley Augusta again bussed in supporters for the hearing after feeding them lunch and opponents of the proposed mine were few and far between.

It was a disappointment, but not a shock: The Coronado National Forest let Rosemont Copper's PR firm handle the arrangements for the public meetings.

We need you to turn out for this Saturday's hearing and tell the Forest Service what you think of this incredibly damaging proposal, which would pollute our air and water and drive several species in our beloved Sky Islands closer to extinction.

Please RSVP so we can get a sense of how many people to expect.

What: Coronado National Forest public hearing on the proposed Rosemont Copper Mine

When: Saturday, Nov. 19, 1 p.m. to 5 p.m.; please arrive early to pick up signs, discuss talking points and get on the speaker list

Where: Empire High School, 10701 E. Mary Ann Cleveland Way, Tucson AZ 85747

Why: It's very important that opponents of the mine make themselves seen and heard. Even if you don't plan to speak, we need you there to counter the orchestrated pressure the company is putting on the Forest Service and show the media that people care more about the mountains than the mine.

If you can't attend the hearing but would like to get a relatively brief version of the draft environmental impact statement to inform any comments you make, a PDF of its executive summary can be downloaded here.
Here's a list of all of the public hearings:
November 19, 1 p.m. to 5 p.m.
Empire High School, 10701 E. Mary Ann Cleveland Way, Tucson  AZ

December 1, 5 to 9 p.m.
Corona Middle School, 16705 S. Houghton Road, Corona AZ

December 7, 5:30 p.m. to 8 p.m.
Benson High School, 360 S. Patagonia Street, Benson AZ

December 10, 1 p.m. to 5 p.m.
Elgin Elementary School, 23 Elgin Rd., Elgin AZ