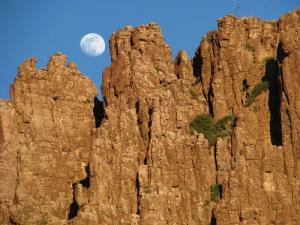 Apache LeapAn hour east of Phoenix and a half hour west of the current boundaries of the San Carlos Indian Reservation lays a unique ecosystem that not only is critical for religious freedom for Native Americans, but is a recreationists' Mecca.  The center of this area, Oak Flat Campground was forever set aside for public use by President Eisenhower more than 50 years ago.
Now, two huge foreign mining companies want to take Oak Flat from the public so the can build a mine that will devastate the area.  They have gone straight to Congress and asked them to pass legislation that would bypass the normal process of approving mines.
 This Thursday, February 9th, the Senate Energy and Natural Resources Committee will be holding a hearing to compare two recent bills that would take away Oak Flat.
 Both bills would give away Oak Flat and destroy Gaan Canyon, Queen Creek Canyon, and Apache Leap.  Both bills would devastate the watershed.  The entire area is sacred to Native Americans and both bills would curtail religious freedoms.  Both bills would end recreational opportunities and their positive economic impact on the surrounding towns.
 There is solid and massive opposition to both bills by Native American, conservation, recreation, and other organizations.
 You can help protect Oak Flat by signing a petition that will go to the Senate and other decision-makers to stand with so many others that want to keep Oak Flat public.
Thanks,
Roger Featherstone, Director
INSTRUCTIONS:
Go to the action page.
Print out a paper copy of the petition and circulate for signatures
For more information, go to the action page.
Share this alert with your friends and colleagues and share on Facebook, Twitter and other social media outlets.